What is Graduate Diploma in Software Engineering?
Graduate Diploma in Software Engineering also known as GDSE is the best choice for your higher eduction which gives you a rich Academic and Professional experience. Achieve zero to mastery in Software Engineering with both a degree and a career in IT industry.
Who should follow GDSE?
After A/L Students
University Expecting Students
Why follow GDSE after A/L's?
Master more than 10 major modules in your IT related degree before entering into the university.

After entering the university for your IT related degree, you will have to follow countless new modules that you have never heard of. So, it will be quite hard to understand them at the beginning.
Solution?
GDSE is a unique fast track training program to boost and enhance the knowledge of the "to be undergraduates" and present undergraduates. CMJD Certificate Level (GDSE 1st Semester) & CMJD Diploma Level (GDSE 2nd Semester) is built from scratch to ensure 100% success inside the campus. There are many benefits such as the ability to develop projects while doing campus projects and studies, ensuring the confidence needed for an internship, in which most of them are not provided by the campus itself. After finishing the AL's, it takes only 6 months to complete the 1st Semester of GDSE, thus it will not be another add-on to your campus life.
If you haven't decide about your higher education yet.
Higher education is a dream and a crucial period for a student's life, where the most memorable things in life happen. It is the main head start and the core for a professional career after your secondary education. Nowdays, there are some trending degree program like CS, IT, MIS, Big Data, etc. Most of them have around 30 to 40 subjects which consume approximately 4 to 5 years of your valuable time. Therefor it is your responsibility to complete it successfully to achieve a great future.

What will I get after completing GDSE?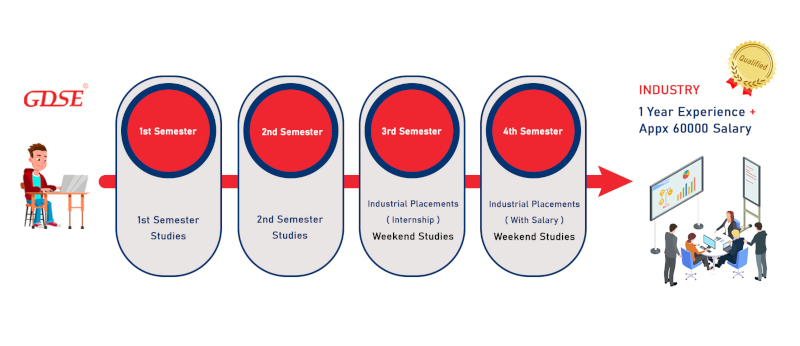 You might be wondering why you should choose GDSE over other institutes for a computer course/ diploma. Graduate Diploma in Software Engineering is a fast track training program, which takes only 2years to complete (excluding the top-up degree). From these two years, the first year is full-time study and the second year is full-time industry placement with part-time studying. An industry placement is a guaranteed process at IJSE, as we have a lot of software companies requesting for software engineers, due to the higher standards and recognition at IJSE. When you take the traditional way of higher education, such as degrees, they usually take around 4 to 5 valuable years to complete and leaves you with only limited industry exposure. Comparative to that, GDSE is a more industry-based degree program, which enables students to tackle real-world industry problems without any issue. Because of this matter, after GDSE, students have enough experience and confidence to face any interview without issues.
You can complete UK top-up degree program after GDSE
Also, IJSE offers a degree program especially for students who have completed GDSE, a UK top-up degree program from a reputed university as a part-time study module in the 3rd year. Altogether, GDSE along with the top-up degree program takes 3 years, as an outcome for 3 years you have, a title of a software engineer with a salary ranging from 100,000 to 200,000, 2 years plus experience, and a prestigious degree qualification.
Graduate Diploma in Software Engineering AKA GDSE, conducted by Sri Lanka's # 1 software engineering training institute is the newest trending opportunity for the newer generations, who don't want to step into the traditional pathway for higher education in Sri Lanka. GDSE is a unique software engineering program, which enhances the learning skills and boosts up the ability to handle real-world problems in the IT Industry.
The course program consists of two academic semesters for the first year which is also known as CMJD Certificate level (Semester-I) and Diploma level (Semester-II) respectively. And the second year consists of a 6 months Industrial training program where you get to work under well reputes IT companies on weekdays and lectures take place on on weekends for both third and fourth semesters. Right after completing the program, you are eligible to enroll in the final year of a UK degree in a university having rank between 70 to 100 in the UK. This extendability allows a student to follow a degree while working full time in the industry after this program. With 13 years of experience, it is 100% guaranteed that all our students get an industry placement.
Semester - 1
CMJD Certificate
Semester - 2
CMJD Diploma
Semester - 3
Graduate Diploma
Semester - 4
GDSE
- Industrial Training -
1st Year
2nd Year
CERTIFICATE - SEMESTER 1
Object Oriented Programming
Software Process Modeling
Input and Output (I/O) Handling
Multi-Threaded Programing
Database Management Systems
Introduction to UX Engineering
Database Programming with JDBC
Software Development with CASE tools
Data Structures and Algorithms I
Semester 1 Final Project & Top Tech Stack
| | | | | | | | |
| --- | --- | --- | --- | --- | --- | --- | --- |
| Java SE | Java FX | Netbeans IDE | MySQL | Heidi SQL | DBeaver | Jasper Studio | Jasper Reports |
| | | | | | | | |
DIPLOMA - SEMESTER 2
Network Programming and Client-Server Architecture
Advanced Database Management System
Data Structures and Algorithms II
Application Development with Industrial Standards
Software Engineering Principles
Client-Server Application Developments
ORM Concepts with JPA/Hibernate - I
Versioning Control with GIT/ GitHub
Semester 2 Final Project & Top Tech Stack
| | | | | | | | |
| --- | --- | --- | --- | --- | --- | --- | --- |
| HTML5 | CSS3 | SASS | ECMAScript | PHP | GIT | Hibernate | IntelliJ IDEA |
| | | | | | | | |
GRADUATE DIPLOMA - SEMESTER 3
Advanced Java EE Programming
Advanced API Development with Spring Web MVC
ORM Concepts with JPA/Hibernate - II
Software Architecture (Layered Architecture)
Project Management with Maven and NPM
Semester 3 Final Project & Top Tech Stack
| | | | | | | | |
| --- | --- | --- | --- | --- | --- | --- | --- |
| Java EE | Tomcat | Maven | Spring | Spring JPA | Spring Boot | Angular | NPM |
| | | | | | | | |
Advanced Mobile Application Development
Advanced API Development with Spring Web MVC
ORM Concepts with JPA/Hibernate - II
Software Architecture (Layered Architecture)
Project Management with Maven and NPM
Semester 3 Final Project & Top Tech Stack
DISCLAIMER:
We opt to follow the latest and stable tech stacks that are currently used in the IT industry. So all above tech stacks and modules are subject to be changed whilst on the course in order to adapt to the industrial standards.
* Last Updated: 2019-September
Course Schedule, Duration & Fees
Semester 1

(CMJD Certificate) +

Semester 2

(CMJD Diploma)
Weekdays - Lectures
Semester 3

(Graduate Diploma) +

Semester 4

(GDSE)
Saturday - Lectures
Weekdays - Industrial Training
GDSE is a Full Time Course, consisting 4 Semesters.
Semester Duration = 6 Months
Full Course Duration ≃ 2 Years

| | |
| --- | --- |
| Full Course Fee | Rs. 300,000 |
| Discount | 20% |
| Course Fee | Rs. 240,000 |
Installments plans are available. Contact IJSE for further information.
Minimum Entry Requirements
(A) 3 Pass Grades at G.C.E. Advanced Level Examination in any stream of study. OR,
(B) 2 Pass Grades for Mathematics and English at G.C.E. Ordinary Level Examination + Pass the Aptitude Test. OR,
(C) Any equivalent or higher qualification acceptable by the IJSE (The candidate will have to face an interview in order to be selected to the programme)
Online Registration
If you are willing to join with the Graduate Diploma in Software Engineering please complete following form and hit the register button. Upon receiving your request IJSE will contact you ASAP for further steps. (Double check your phone number before submitting)
Please wait, sending the request
- Students Comments -