What is Graduate Diploma in Software Engineering?
Graduate Diploma in Software Engineering also known as GDSE is the best choice for your Higher Eduction which gives you a rich Academic and Professional experience. GDSE is the most secure and reliable way in Sri Lanka to become a Software Engineer with a Degree and a High-salary.
Who should follow GDSE?
After A/L Students
University Expecting Students
Why follow GDSE after A/L's?
What if we tell you that you can master more than 10 Major Modules in your IT Related Degree before entering into the university. Sounds interesting?

You worked so hard and finally, you have got a chance to enter into a university to pursue your Higher Education dream. Well, everything seems okay up to now, right? But unfortunately, it is not a smooth path like we heard countless times in the A/L classes from tuition teachers. After entering into the university for your IT related degree, you will have to follow countless new modules that you have never heard of. So, it will be quite hard to understand them at the beginning and to make things even worse you are in a very competitive environment now where everyone is willing to try to get a good GPA. But don't worry we have your back.
So what is the solution?
Let's us break it down for you. GDSE is a unique fast track training program to boost and enhance the knowledge of the "to be undergraduates" and present undergraduates. CMJD Certificate Level (GDSE 1st Semester) & CMJD Diploma Level (GDSE 2nd Semester) is built from scratch to ensure 100% success inside the campus. We ensure that you can cover more than ten major modules in your degree within the GDSE program which helps you to get ahead and show colors in front of your other collegues. Apart from that, there are many other benefits as well. Such as the ability to develop projects while doing campus projects and studies, ensuring the confidence needed for upcoming internships, in which most of them are not provided by the campus itself. After finishing the A/L's, it takes only 6 months to complete the 1st Semester of GDSE, thus it will not be another add-on to your campus life.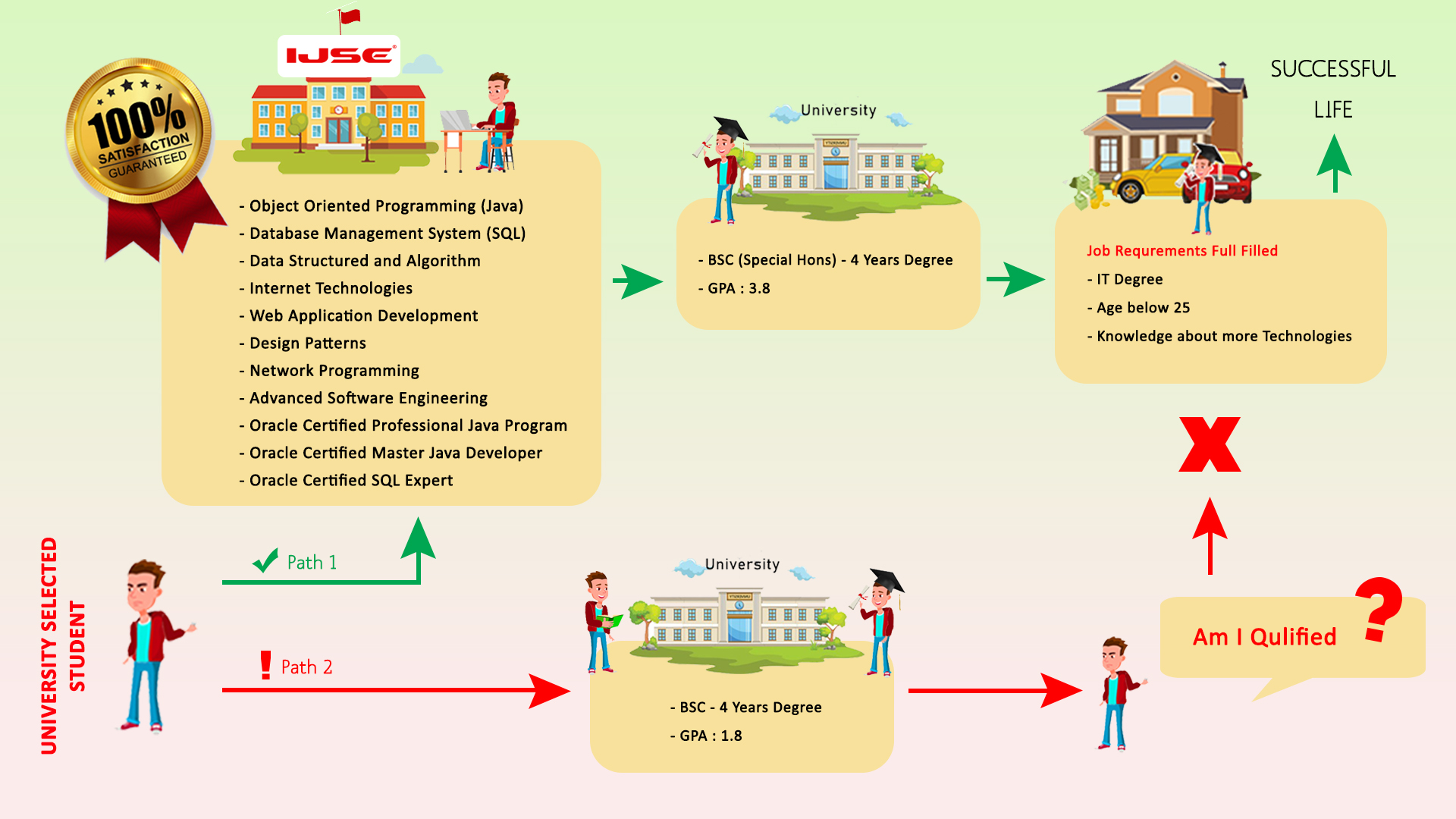 If that sounds interesting, let's hop into the course outline
---
If you are Tired of the Conventional Higher Education Path, but you still want to be a Software Engineer. Don't worry we have your back.

Okay, we get it. You don't like the conventional Higher Education Path in Sri Lanka. Well, that could be due to many reasons. Maybe you are so tired of repeating A/L again and again, maybe you lack enough financial background to pursue your Higher Education or maybe you just don't like the traditional path to be a Software Engineer in Sri Lanka. If that sounds familiar to you, don't worry you are in the right place. Because IJSE has the experience of consulting thousands of students like you. Okay, enough talking. Let's come to the point, the truth is that the traditional path to be a SE in Sri Lanka, well it sucks.
So what is the solution?
Well, let us show you the Specialty of the Graduate Diploma in Software Engineering over other courses and diplomas. GDSE is a Fast Track Training Program, which takes only 2 years to complete (excluding the top-up degree). From these two years, the first year is totally dedicated to full-time study and the second year is full-time industry placement with part-time studying. And most importantly, an industry placement is a guaranteed process at IJSE, as we have a lot of software companies requesting for software engineers, due to the higher standards and recognition at IJSE. If you compare it with the traditional way of higher education, such as degrees, they usually take around 4 to 5 valuable years to complete and leaves you with only limited industry exposure. Comparative to that, GDSE is a more industry-based degree program, which enables students to tackle real-world industry problems without any issue. Because of this matter, after GDSE, students have enough experience and confidence to face any interview without issues.
Is that all? What about the Degree?
No, you are right. Higher Education is a dream and a crucial period for a student's life, where the most memorable things in life happen. It is the main head start and the core for a professional career after your secondary education. IJSE offers a degree program especially for students who have completed GDSE, a UK Top-up Degree program from a reputed university as a Part-time Study module in the 3rd year. Altogether, GDSE along with the top-up degree program takes 3 years, as an outcome for 3 years you have,
Outcome = (SE Title) + (Salary Ranging from Rs.100,000 to Rs.200,000) + (2 Year Plus Working Experience) + (UK Degree)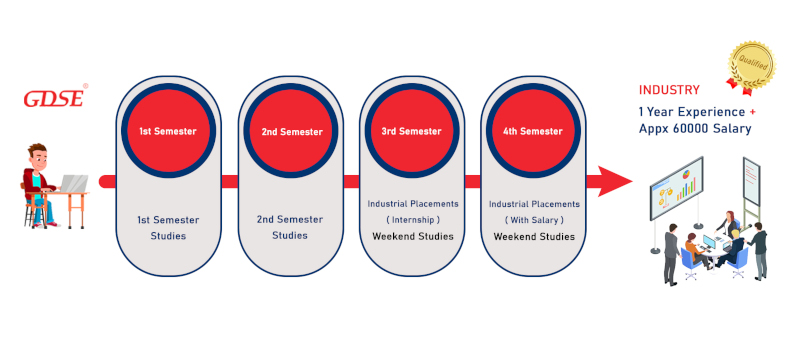 If that sounds interesting, let's hop into the course outline
Graduate Diploma in Software Engineering AKA GDSE, conducted by Sri Lanka's # 1 software engineering training institute is the newest trending opportunity for the newer generations, who don't want to step into the traditional pathway for higher education in Sri Lanka. GDSE is a unique software engineering program, which enhances the learning skills and boosts up the ability to handle real-world problems in the IT Industry.
The course program consists of two academic semesters for the first year which is also known as CMJD Certificate level (Semester-I) and Diploma level (Semester-II) respectively. And the second year consists of a 6 months Industrial training program where you get to work under well reputes IT companies on weekdays and lectures take place on on weekends for both third and fourth semesters. Right after completing the program, you are eligible to enroll in the final year of a UK degree in a university having rank between 70 to 100 in the UK. This extendability allows a student to follow a degree while working full time in the industry after this program. With 13 years of experience, it is 100% guaranteed that all our students get an industry placement.
Semester - 1
CMJD Certificate
Semester - 2
CMJD Diploma
Semester - 3
Graduate Diploma
Semester - 4
GDSE
- Industrial Training -
1st Year
2nd Year
CERTIFICATE - SEMESTER 1
Object Oriented Programming
Software Process Modeling
Input and Output (I/O) Handling
Multi-Threaded Programing
Database Management Systems
Introduction to UX Engineering
Database Programming with JDBC
Software Development with CASE tools
Data Structures and Algorithms I
Semester 1 Final Project & Top Tech Stack
| | | | | | | | |
| --- | --- | --- | --- | --- | --- | --- | --- |
| Java SE | Java FX | Netbeans IDE | MySQL | Heidi SQL | DBeaver | Jasper Studio | Jasper Reports |
| | | | | | | | |
DIPLOMA - SEMESTER 2
Network Programming and Client-Server Architecture
Advanced Database Management System
Data Structures and Algorithms II
Application Development with Industrial Standards
Software Engineering Principles
Client-Server Application Developments
ORM Concepts with JPA/Hibernate - I
Versioning Control with GIT/ GitHub
Semester 2 Final Project & Top Tech Stack
| | | | | | | | |
| --- | --- | --- | --- | --- | --- | --- | --- |
| HTML5 | CSS3 | SASS | ECMAScript | PHP | GIT | Hibernate | IntelliJ IDEA |
| | | | | | | | |
GRADUATE DIPLOMA - SEMESTER 3
Advanced Java EE Programming
Advanced API Development with Spring Web MVC
ORM Concepts with JPA/Hibernate - II
Software Architecture (Layered Architecture)
Project Management with Maven and NPM
Semester 3 Final Project & Top Tech Stack
| | | | | | | | |
| --- | --- | --- | --- | --- | --- | --- | --- |
| Java EE | Tomcat | Maven | Spring | Spring JPA | Spring Boot | Angular | NPM |
| | | | | | | | |
Advanced Mobile Application Development
Micro-Service Architecture
Service Oriented Architecture (SOA)
DISCLAIMER:
We opt to follow the latest and stable tech stacks that are currently used in the IT industry. So all above tech stacks and modules are subject to be changed whilst on the course in order to adapt to the industrial standards.
* Last Updated: 2020-January
Course Schedule, Duration & Fees
GDSE is a Full Time Course, consisting 4 Semesters with each semester lasts 6 Months. Course Duration = 2 Years
Semester
Qualification Level
Dates
Semester-I
CMJD Certificate
Weekdays - Lectures/Labs
Semester-II
CMJD Diploma
Weekdays - Lectures/Labs
Semester-III
GDSE Diploma
Saturday - Lectures/Labs
Weekdays - Industrial Traning
Semester-IV
GDSE
Saturday - Lectures/Labs
Weekdays - Industrial Training
UK Top-up Degree
Weekends - Lectures/Labs
Weekdays - Working as a SE
Apply Now
---
Panadura Branch
Commencing in September
* Only 60 seats are available
Galle Branch
Commencing in September
* Only 60 seats are available
COURSE FEE:
There are various payment plans including credit cards installments plans are available for you, please contact IJSE for further negotiation. You can make payments via Credit/Debit Cards, Cash or you can credit the fee to Nation Trust Bank account number 100170004375 or Hatton National Bank account number 069010011697 or Sampath Bank account number 010210000726 in favor of Institute of Java and Software Engineering. However if you are going to credit the fee directly to the bank, make sure to contact IJSE first via Hotline for the fees and necessary instructions because course fees are subject to change.

Account No 100170004375

Account No 069010011697

Account No 010210000726
Minimum Entry Requirements
(A) 3 Pass Grades at G.C.E. Advanced Level Examination in any stream of study. OR,
(B) 2 Pass Grades for Mathematics and English at G.C.E. Ordinary Level Examination + Pass the Aptitude Test. OR,
(C) Any equivalent or higher qualification acceptable by the IJSE (The candidate will have to face an interview in order to be selected to the programme)
Online Registration
If you are willing to join with the Graduate Diploma in Software Engineering please complete following form and hit the register button. Upon receiving your request IJSE will contact you ASAP for further steps. (Double check your phone number before submitting)
Please wait, sending the request
- Students Comments -